His artistic production has influenced the work of numerous exponents of the world of painting including, for example, the great Amedeo Modigliani. Let's discover the story of Giovanni Fattori, artist and founder of the Macchiaioli movement and his artistic career during the 19th century.
Who was Giovanni Fattori
Giovanni Fattori (Livorno, 6 September 1825 – Florence, 30 August 1908) was an Italian painter and engraver. He grew up in a family consisting of Lucia, a strongly believing Florentine mother, Giuseppe, his father and Rinaldo, his brother. The latter, given the 15 years of age difference, is for him an almost fatherly figure who welcomes him into his business bank when he decides to leave his studies.
Here little Giovanni still learns to read and write, but he understands that his vocation is art.
He began to draw more and more often, leading his family to enroll him in the Giuseppe Baldini institute, the best in the city. Once he grows up he realizes that he didn't have good teachers and so he moves to study at theAcademy of fine arts of Florence, where he also meets numerous future colleagues.
The artistic debut of Giovanni Fattori
He also manages to fit into elite circles such as that of Bezzuoli's private lessons which elevates him to higher social categories, despite the negative comments of the bourgeoisie. Being judged because he comes from a lower class leads him to express all his frustration through rebellious gestures. Despite his being lively, however, he concludes his studies on a regular basis and is now ready to start his career.
During these years he also gets involved by nationalist and revolutionary movements that touch the students with the rise of Pius IX. In fact, he begins to distribute the so-called "incendiary sheets" throughout Tuscany and then returns to painting with a new political awareness. In fact, over the years he often frequented the Caffè Michelangiolo in Florence where he met several artists and patriots of his own age.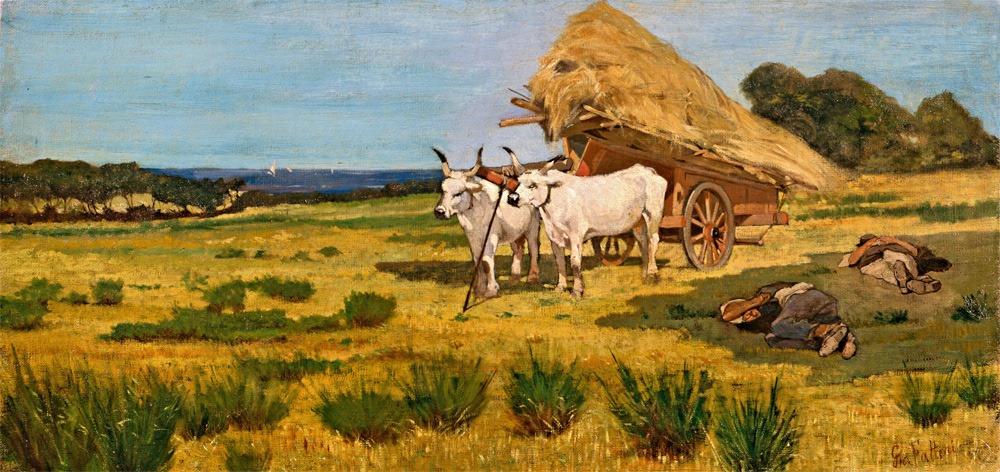 Giovanni Fattori and the birth of the Macchiaioli
Just then he meets his future wife and the first economic difficulties begin that lead him to enter as cartoonist and lithographer. He continues to create his own works and in fact, after his debut with "Self-portrait" in 1854, he develops a new technique that will lead him to achieve great success: the stain.
This novelty leads to the birth of the movement of the Macchiaioli, young artists ready to follow Fattori's example. In recent years, a clash with academic art and classical art opens, with the desire to follow a more expressive technique and closer to a naturalistic poetics. In addition to a technical discourse, a thematic change can be observed for which now we want to represent thelook more everyday and simple of human existence.