Founder of some well-known literary magazines of the twentieth century, Ardengo Soffici was fundamental in Italian history. Let's discover the career of the artist who had a life between writing and painting, leaving a great mark.
Who was Ardengo Soffici
Ardengo Soffici (Rignano sull'Arno, April 7, 1879 – Vittoria Apuana, August 19, 1964) was an Italian painter but also poet and writer. He grew up in a wealthy family of peasants who found themselves in great economic difficulties following the financial failure of the father. The young Ardengo then, who grew up with the artistic vocation and dedicating himself to the study of art and literature, he is forced to roll up his sleeves and thus enters a law firm.
Despite this, however, he continues to develop his passion by attending artists known at the Academy of Florence such as Giovanni Fattori or Telemaco Signorini. With the death of his father and the transfer of his mother, the young man is able to devote yourself totally to painting and so he moved to Paris to immerse himself completely in this environment. Here he starts working as an illustrator and meets already known colleagues including Pablo Picasso, Apollinaire and many others.
Ardengo Soffici between writing and painting
He also began writing for several literary magazines, including "L'Europe artiste" which allows him to know two fundamental writers for his career: Giovanni Papini and Giuseppe Prezzolini. He forges a very solid bond of friendship with the two and also undertakes a working partnership by collaborating with them at "La Voce". The newspaper was born in Florence in 1908 and Soffici has the role of creating the head and curating the columns on an artistic theme.
In parallel to this project the magazine "Lacerba" is born futurist, founded together with colleagues Papini and Palazzeschi. The relationship with the futurist artists, however, is very conflicting as his harsh criticisms often put a strain on the patience of the exponents of the current note. The birth of the magazine is intended as an official testimony of futurism.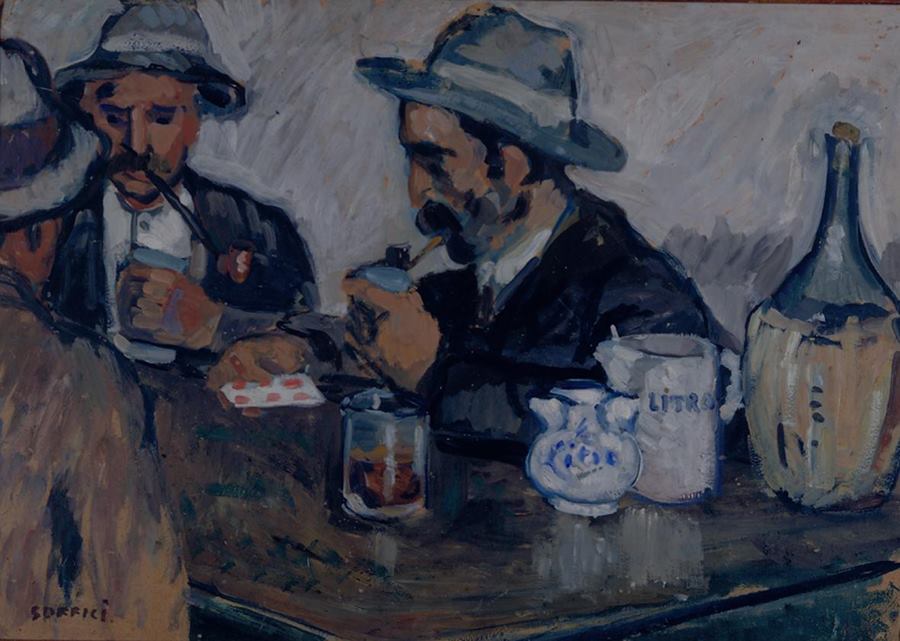 Ardengo Soffici and the two great wars
With the arrival of the First World War Soffici he enlisted as a volunteer and from this period of his life was born "Kobilek-Giornale di guerra" and "The retreat of Friuli" published once he returned home. Once the conflict is over, he begins to work as collaborator of numerous newspapers such as "Il Popolo d'Italia" and "Corriere della Sera".
Then he founded with his historical colleague Papini "La Vraie Italie", a magazine dedicated to intellectuals from Italy and other European countries. Over the years, his orientation became increasingly controversial, especially when he signed the Manifesto of Fascist intellectuals.
Later, after the armistice, he also joined the Italian Social Republic by founding the magazine "Italy and Civilization" in which it offers support to the homeland and to the Germans. He is arrested for this, but there is not enough evidence to prove his collaboration and so he is released.