How the Indian-Brazilian model Akash Kumar has changed: the photos yesterday and today that demonstrate his transformation, from a young aspiring model to an established character of the Italian show business.
Akash Kumar yesterday and today
Akash Kumar is one of the new ones Italian sex symbols.
The model, born in 1991, was born in New Delhi to a Brazilian mother and an Indian father and has bewitched everyone with her exotic beauty and her icy eyes. Raised in Verona, Akash is establishing himself more and more in the world of fashion and entertainment. He has participated in various television programs, including Temptation Island in the role of tempter; as a dancer in dancing with the Stars and in the reality show The Island of the Famous.
Numerous controversies against him, especially on the theme of his ice blue eyes. Many have wondered if Akash Kumar's eyes are real or the result of a surgical operation, precisely of the brightocular, an implant of the iris. Over time indeed the model has changed a lot, especially in the body and in the hairstyle. As a very young man he wore short hair, shaved at the sides with a crest, and his physique was already statuesque but still under development.
Her hairstyles have always amazed for their eccentricity and uniqueness: for example she wore the pigtails afro who gathered all his hair, highlighting his face and splendid blue eyes.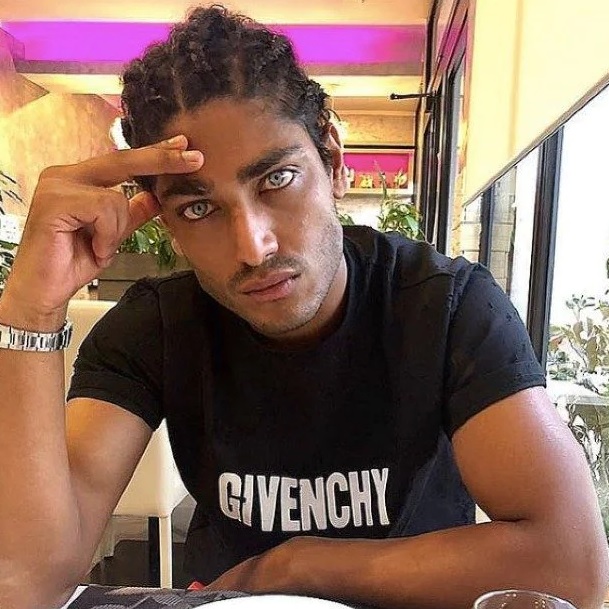 Today brings curly hair medium-long which give it that look of beautiful and cursed. The beard, not long but still unkempt, contributes to the beauty of the Indian-Brazilian model, who sports a statuesque physique with sculpted muscles and abs.